Jumping castle hire security
Jumping castle hire security and safety is a fact we take extra care. We have traind staff looking afterthe kids and cctv security system installed by professional security company to monitors the jumping castle security and safety.
We love to see your child  have a great  day and we will make sure we do our par by providing the best advice on security and safety of the kids.
If you  want to  book a Jumping castle for your next event with a exceptional track record company  just call jumping castle hire Melbourne today on 0431811677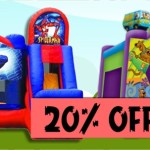 We offer free security with the jumping castle and furthermore delivery and set up is no extra cost for the customer you will seve more and more when booking a jumping castle with jumping Genie
Visit us at
Jumping castle hire Melbourne
28 banjo circuit
Lynbrook VIC 3975
Tags: Security