mini Jumping castle hire
mini Jumping castle hire  & Amusement Rides In Melbourne
mini Jumping castle hire We provide everything you need to take your next event  can provide you with the right equipment and support to make your event a total success. We guarantee if you hire a jumping castle in Melbourne from mini Jumping castle hire  that you and your guests will have the best time possible.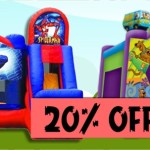 No matter if it is a children's or an adult jumping castles you wish to hire, the folks at mini Jumping castle hire will provide you with everything you need to make your party/event or get together a most memorable and fun time. In the greater Melbourne area, we make renting a jumping castle, slide, amusement ride, slushie machine, fairy floss or popcorn maker as simple and easy as possible. We also provide free delivery in Melbourne and its surrounding suburbs when you hire our products so that whether you live in Baw Baw shire, Cardina shire, Mornington peninsula, Casey, Kingston, Bayside, Maroondah or any of the other nearby locales, you won't pay extra to have mini Jumping castle hire deliver and set up your jumping castles or other party/event equipment. At mini Jumping castle hire, our goal is to make sure that everyone has a good time, including you!
At mini Jumping castle hire , Security is number one priority we can handle just about every type of party/event you can think of. be it a birthday for a child, teenager or adult, a sporting club, fete, festival, christmas party or corporate function, our expert entertainment experience means everyone will have a good time.
If you are in charge of the annual company party, you might imagine that management will appreciate your ability to find an affordable jumping castle for hire in Melbourne or corporate amusement rides hire that not only conforms to the corporate budget guidelines, but offers equipment and services that conform to all Australian safety standards.
fundraising event are another area that mini Jumping castle hire  can help you with. Nothing creates a more successful fundraising environment than if the attendees are having a good time and enjoying themselves. This is where our fun loving staff of experts can help you select the right entertainment equipment. let Jumping Genie experienced staff take care of the details so that you can relax and enjoy the day! you can book with us between 9am to 10pm monday till sunday We are available 52 weeks of the year and we don't charge extra for services provided on public holidays or christmas day. Our only goal is to make sure your party is a success.